New Orleans Jazz Festival: 'Trombone Shorty'
Of all the amazing New Orleans, Louisiana, musicians, my favorite could be Troy "Trombone Shorty" Andrews.

Troy "Trombone Shorty" Andrews performs on the Gentilly stage at the New Orleans Jazz Festival.

And now, at age 23, Trombone Shorty is getting ready to play with Aerosmith and release his latest CD. He's played every venue in New Orleans you can think of.

I had the chance to catch up with him at the 40th annual New Orleans Jazz Festival this week. The following is an edited version of that interview.

CNN: You can't ask for better weather, better crowd, and to be the face of Congo Square. How does it feel?

Trombone Shorty: Well, it feels great. I'm happy to be in my city and get a warm reception like that from the audience.
Forty-six years ago, a blond teenager in glasses, a plaid shirt and blue jeans cropped below the knee stood out as he strutted in a second-line parade.
Four months ago, still blond but now 61, he took part in a celebration in the small west African nation of Benin. As the drumming and dancing reached a crescendo, he dropped to all fours to "pop the gator," a particularly unhinged form of late-night New Orleans self-expression.
Quint Davis, the son of a prominent local architect, would seem an unlikely candidate to undertake a five-decade immersion in African-derived music and culture.
Midnite Disturbers: A Jazz Fest supergroup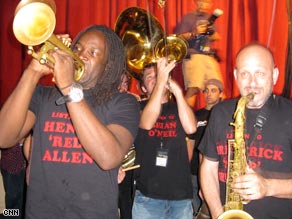 he band was started by New Orleans drummers and longtime friends Stanton Moore and Kevin O'Day. In the weeks following Katrina, O'Day had moved into Moore's house, where the two hit on an idea.

"We realized we had never had our own band together, and we decided to invite all of the best horn players we know to play with us," O'Day said.

Each artist has a name, printed in red, on his shirt, following the command "Listen to": Smokey Johnson ... Brian O'Neill ... Henry "Red" Allen. They're the band's predecessors and mentors. Although probably little known outside the Crescent City, they're the musicians who shaped New Orleans music: masters of their craft.
From Shaky Start to Enduring Tradition
Gospel singers were harmonizing and brass-band horns were pumping out a parade oompah. Between them, Glen David Andrews was dressed like an R&B star in shades and a heavily sequined T-shirt, shouting to the rafters, singing about the Lord. It was Friday afternoon in the gospel tent at the New Orleans Jazz and Heritage Festival. In typical New Orleans style, traditions were getting all mixed together.





This was the 40th annual Jazzfest, which ended on Sunday. Quint Davis, who produced them all, often describes it as the "world's biggest backyard barbecue": a giant New Orleans house party with food, drinks and live music, plenty of it. This year, on 12 stages during two long weekends, Jazzfest presented more than 400 acts, the great majority of them from Louisiana.
Longtime Tchoupitoulas Street snowball stand is as good as new
For 70 years, the whirring machine at Hansen's Sno-Bliz has turned ice into snow.

Before Ernest Hansen built it, snowballs were shaved by hand with a plane, but he wanted his son to have a snowball untouched by sweaty, dirty fingers.

His wife Mary, along with her collection of homemade syrups, turned the machine into a business. That business became a New Orleans institution.
Allen Toussaint: The Bright Mississippi
When asked about Allen Toussaint, Van Dyke Parks once said, "he's the greatest piano player alive, only no one knows it... including him." High praise from one legend to another. With The Bright Mississippi, Toussaint has finally released a jazz-oriented album. Though jazz-influences can be found on many of his rock/funk sides as well as in many of the songs that he has written (including "Whipped Cream," which was morphed into the theme from The Dating Game), arranged and produced, this album, a salute to the timeless music of his hometown of New Orleans is his first foray into jazz. Though he'd never recorded any of them, as a native New Orleanian, Toussaint was well-acquainted with the songs and music that has made The Big Easy synonymous with the phrase "The Birthplace of Jazz."
A music city
There is a very interesting online interview floating around with Scott Aiges who is the Director of Programs, Marketing and Communications for the New Orleans Jazz and Heritage Foundation. Mr. Aiges is in charge of opening Jazz Fest's doors to music industry players and potential festival sponsors. He's an important guy and has some really great thoughts on New Orleans music in general.

The subject of the interview is "Why Does the New Orleans Music Industry Lack Momentum?".
Interview with Rob Mercurio from Galactic

OD: Here we are with Rob Mercurio, the bassist for the amazing band, Galactic. Thanks for taking the time to talk with me today Rob. How is your Jazz Fest coming along?



RM: Hmmmm...I felt like Stanton this weekend. (Laughs) I had three gigs this Saturday, after playing a late night at Tips the night before. I had multiple rehearsals, a gig Thursday, a gig Friday, a gig last night. I will be inducted into the walk of fame at Tips tonight. (It was Monday in between Jazz Fest Weekends when we did this interview, and Galactic was given that honor by Tips as part of the Instruments a Comin' benefit).
Jazzfest Features Ever-Growing Family Bands
The musical heartbeat of New Orleans families shone through in this year's Jazz and Heritage Festival, deeply evident when Big Chief Bo Dollis sang "I Love You" and "Goodbye" for two stanzas while his son shook his head and looked to the skies. Bo's voice was in fine form despite his physical battles, and performing with the Wild Magnolias gave him the strength to stand up and reach out his fans, thanking his fans for giving him a career in music. Marva Wright joined the Big Chief in a set that was as joyful as it was heartbreaking. Little Bo Dollis is the new standard bearer in The Wild Magnolias, a band that blasted Mardi Gras Indian
Neville adds own flavors to New Orleans music gumbo
Growing up on Valence Street in New Orleans' 13th Ward, youngest Neville brother Cyril spent a lot of time in his mother's kitchen. It was there that he learned about two of his hometown's most important ingredients: music and food.






"That's not only where I learned how to cook, but that's also where the radio was," Neville explained a few weeks ago. "I watched my aunts and my mother break out into a dance when certain people came on the radio. Jimmy Reed, Wynonie Harris and stuff like that. "And when I was a youngster listening to all of this stuff, I was told that New Orleans was the home of the blues and Irma Thomas was the soul queen and the blues queen of New Orleans."
Jazzfest on Twitter
From discipline comes freedom
Pianist Jonathan Batiste melds styles to make 'social music'
At 22, the New Orleans native is one of jazz's most dauntingly talented young pianists, a recent Juilliard graduate who started his career as an 8-year-old playing percussion in the popular New Orleans funk and R&B band run by his cousins, the Batiste Brothers. He's spent the past two years backing vocalist Cassandra Wilson, providing luscious accompaniment on her 2008 standards session, "Loverly," and recently joined trumpeter Roy Hargrove's hard bop quintet.

Warren Lee – Star Revue
The Mighty King Lee
"Listen – Warren Lee – Star Revue- MP3″
The tune I bring you today is one of my all time fave New Orleans soul records.

Warren Lee

doesn't have one of the biggest discographies on the NOLA scene of the 60s, but in its ranks are a couple of the finest records to fall out of the Crescent City during that era, including a couple of gritty funk sides ('Underdog Backstreet', 'Funky Belly' and 'Mama Said We Can't Get Married').