c/o
New Orleans Ladder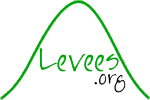 Levees.org, a New Orleans-based non-profit formed after Katrina with a mission of raising awareness about the nation's levee systems, today announced the opening of its sixth chapter. The New York chapter joins existing chapters in Louisiana, Florida, California, Illinois and Oregon, boasting in total over 24,000 supporters.



"Forty three percent of the American population lives in counties protected by levees," said Sandy Rosenthal, Founder and Executive Director of Levees.org. "The failures that occurred during Katrina could happen elsewhere. With over 300 supporters in New York, a chapter there, which is vulnerable to storm surge, has been a priority since our inception in 2005."





Levees.org's Board of Directors has appointed Brian H. Schaffer as Director of its New York Chapter. Schaffer brings with him over ten years of corporate communications experience, encompassing a wide range of communications disciplines. He has worked on behalf of not-for-profit, publicly traded and private clients, designing and implementing comprehensive and award-winning communications programs. Schaffer's counsel and leadership will be instrumental in helping levees.org increase its national presence and educational outreach efforts.





"The opening of a New York chapter will be critical in helping us to raise awareness that the flooding caused to the New Orleans metro area during Hurricane Katrina was not merely the result of the hurricane itself, but the worst civil engineering failure in our nation's history," said Schaffer.





The Board of Directors of Levees.org has also appointed Gabrielle Foss to the position of Assistant Director who will aide Schaffer in both recruitment of new membership supporters and the establishment of an infrastructure for the new chapter. Foss is a New Orleans native and her experiences after the levees failed will lend a unique perspective on the issues of levee protection.