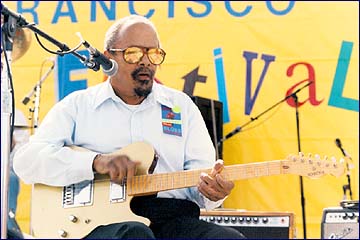 We've been worried about the health of beloved guitarist and singer

Snooks Eaglin

(pictured), who is being treated for prostate cancer. Recently, a call went out for blood because he had been hospitalized. He's out now and seems to be in recovery. Those who wish to help the Eaglins can contact his daughter

Stacy Hunter at PO Box 10871, New Orleans, LA 70181 to see how to do so.





Here's a slightly outdated profile written by John Sinclair:


Human Jukebox: Snooks offers a gift for the wretched
Snooks Eaglin is the Crescent City's secret weapon, a blind bombardier of the electric guitar who plays, nearing age 60, with more intensity, taste, mastery, and musical command than most anyone you can think of. And the kicker is, he gets better all the time.
The past 10 years -- since Snooks signed with BlackTop Records -- have been good to Eaglin's fans, giving us many hours of musical enjoyment by way of his albums (Baby, You Can Get Your Gun, Out of Nowhere, Teasin' You, and Soul's Edge), his exhilarating performances at JazzFest and around New Orleans, and some rare personal appearances outside Louisiana. His early work as a street singer is available on several CDs; his great R&B sides of 1960-'63, produced by Dave Bartholomew, were reissued by Capitol in 1995 as The Complete Imperial Recordings.
Read the rest of the story HERE.