A history of new orleans music in 100 tracks (part one)
New Orleans Second Line (artwork by Bob Graham)
If one could measure the influence of its music on the global soundscapes, New Orleans's importance would be off the charts. Its significance as the likely birthplace of jazz is well known, but New Orleans also has a rich history of R&B, funk, pop, blues, rock and roll, and even classical music. From Gottschalk to Galactic, the city has produced fresh exciting sounds that have captured the hearts and souls of the rest of us. And we're not even including the Cajun and zydeco sounds from elsewhere in the state of Louisiana that have often made themselves felt in its environs and beyond. The history of New Orleans music is, in truth, a vibrant microcosm of American music as a whole.
9th Ward Field of Dreams - Nike Game Changers
Kermit Ruffins Named a Top Mayoral Candidate
Kermit Ruffins
was named one of the top New Orleans mayoral candidates by the Times-Picayune's Chris Rose. Read the list
HERE.
"It's My Party And I'll Fish Fry If I Want To" : THE WEEKEND MIX FOR NEW ORLEANS
How about some Earl King with the mighty Meters, Allen Toussaint

and that Sansu

horn section that usually included Gary Brown and Clyde Kerr and a rotating cast of other guys. This album has been out under the names Street Parade and A Mother's Love as well as New Orleans Blues but never seems to stay around for very long. A damn shame too because this is some of the best of all Earl's work; it was the one he seemed to personally like best, at least that's what he said in a interview I recall hearing a year or so before he died. Most of the songs are Earl's of course but a couple are penned by Toussaint

. The Meters give it all a funky under layer but most of these tunes lean more towards blues and r & b than the pure NOLA funk usually associated with the Funky Four. There are 3 or 4 more tracks from these sessions that haven't been included for some reason but ya takes what ya gets.
My Friend, Paul Sanchez
I found out that being a "mid-level rock star struggling with the limitations of my own career", (like the guys in Almost Famous), was not what I had aspired to when I picked up the guitar. I wanted to play and write the best songs I could while I was still on the planet- rock, jazz, country, folk, theatrical, pop, whatever the muse delivers. I found out that I am New Orleans, I love New Orleans and even if I lived elsewhere they would allow for my eccentricities because you know, "he's from New Orleans."
The Promised Land- A Swamp Pop Journey
"The Promised Land is a film that takes you to the heart of Louisiana's musical phenomenon - Swamp Pop. Shot in South-west Louisiana we meet this super group of cult and underground heroes and observe their lives, their music, their culture. Tracing founder member CC Adcock's search through the swamps and flatlands of South Louisiana we are drawn into a world of beauty."
Tony Dagradi - Sweet Remembrance 1987
Mark Bingham story OffBeat's Sept. cover
It's not often you get to write about a close friend, but OffBeat magazine gave me that opportunity when they assigned me to write a cover story about Mark Bingham, the producer and owner at Piety Street Studio, which is right down the block from where I live in New Orleans. When we go to walk our dog Susie in Markey Park we often meet up with Piety Street's resident canine Oliver, who has overcome his initial suspicions of me and doesn't growl every time he sees me any more. Piety Street is one of the reasons New Orleans music has made such a strong comeback since Katrina, and like a lot of things that seem to actually work in this messed up city since the federal flood, they've done it without a nickel of the government money that always seems to end up in the wrong bank account. There's a lot that didn't make it into the article, which I'll publish in full on this site after the OffBeat version is no longer on the street.



Photo of the Day
The Radiators - Equifunk, PA 9/5/09
Trombone Shorty - Outside Lands Music Festival - Golden Gate Park, San Francisco, CA - 8/29/09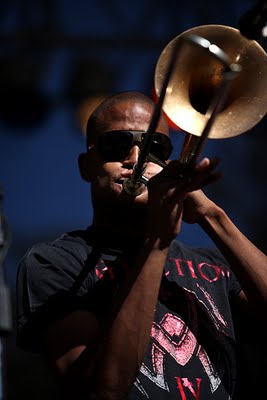 Download a Song- Help New Orleans Musicians!




This is a really cool song from a really cool band called the MarchFourth Marching Band. It is called "Ninth Ward Calling," and will appear on their forthcoming album "Rise Up," which is due out Oct 13, 2009. Daniel Lamb, a trombone player in the group wrote it as a shout out to the residents of New Orleans after Hurricane Katrina. All proceeds from downloads of this song (between Sept 3 and Sept 13) will be donated to Sweet Home New Orleans, a non-profit whose mission is to help New Orleans musicians, Mardi Gras Indians, and Social Aid & Pleasure Club members get on their feet, earn money from their art, and pass on America's most unique cultural traditions.
http://marchfourth.bandcamp.com/?autoplay=true



NPR: Marlon Jordan: Summer Vibes In Colorado
Marlon Jordan was born into a New Orleans family in 1970. His father, Kidd Jordan, plays avant-garde saxophone, while his mother is a classical pianist. Marlon, who studied at the New Orleans Center for the Creative Arts, uses alumnus and friend Wynton Marsalis' middle name in the title of the composition "Learson's Return." It's a highlight of this set, showcasing Marlon Jordan's trumpet technique.