Kermit Ruffins: Swingin' and Smilin'
There's a rebirth occurring in New Orleans music, and trumpeter/vocalist Kermit Ruffins finds himself front and center. While the post-Katrina recovery has meant many things for the Crescent City, in a number of ways it's been musicians who have taken the lead in bringing the city back to its traditions. Prior to the storm, many musicians and fans of the traditional New Orleans sound spoke despairingly about the musical future for the city that many considered to be the place where jazz got its start. Musicians found it increasingly difficult to sustain a career in their chosen field, and many abandoned their beloved home for apparently better opportunities.

Yet Kermit Ruffins stayed. New Orleans is his muse and it provides the fuel for a creative fire that started years ago when he first discovered the music he so loves today. But more than that, Ruffins is an entertainer, and he knew early on that he could make a living doing what he loved, in the city he loved.
Stanton Moore talks with NewOrleans.Com

Galactic drummer and musician's musician Stanton Moore stopped by the NewOrleans.Com offices on his way to play at Wednesdays at the Square. After a brief discussion about his Battlestar Galactica belt buckle, he shared some of his favorite music experiences and gave away his secrets on how he stays sane with such a busy schedule.



NO

C:

So, let me see if I've got this right... I tried to get all of the bands that you play with in a list, if that's even possible. So there's Galactic and Dragonsmoke and The Klezmer All-Stars...



SM:

I don't play with them anymore; I haven't played with them in years. But I did tour with them for a long time, for sure.




NOC:

And then Moore & More...



S

M:

Right, but now instead it's the Stanton Moore Trio.



NOC:

Okay, so that one has transformed a bit. And then you've got MVVP, Garage A Trois and the Midnite Disturbers, and you've done work with Tom Morello and Corrosion of Conformity and a whole handful of others, too?!
New Orleans Nightcrawlers
Very rarely does an album come along that redefines the sound and spirit of an entire genre. On their first release in almost a decade, the New Orleans Nightcrawlers have created a sound more imaginative, adventurous and contagious than any of its esteemed forebears. On all fronts, musically, compositionally and production-wise, the band's fourth album, Slither Slice, sets an unprecedented high within the brass band world.

In recent years, the "contemporary" New Orleans brass band scene has slipped further and further into the novelty range—all party and no substance. And while splashing funk, hip-hip, soul and R&B atop some second-line beats and alongside a slew of free-wheeling solos may pave the way for an epic, all-night celebration, rarely does it lead to an album of any significance. On the other side of this debate, "traditional" brass band albums often offer arresting displays of musicianship, but rarely do they stir up any sort of frenzy. What sets the Nightcrawlers apart is their ability to capture the rampant enthusiasm of a sweaty brass soiree and color each nuance and shift with sublime expertise and vitality without any discernable tradeoff.
Five Questions with DJ Soul Sister
For the past 14 years, the Panorama Jazz Band's variegated mash-up of world beats has consistently challenged expectations about what New Orleans jazz can be. Equally at home anchoring a second-line parade as a traditional Jewish wedding, the band's raucous party music, which it has performed everywhere from Gypsy campfires to Carnival parades, combines sounds from all over the globe.
big chief in morocco
"I was a Mardi Gras Indian first and then I became a professional musician," he once told interviewer Ned Sublette. Donald Harrison has been "masking" as the Mardi Gras Indian costuming tradition is known in New Orleans, since he was two years old under the tutelage of his late father. He formed his Congo Nation performing ensemble in 1999. Donald has toured the globe extensively as both soloist and leader of several bands. Congo Nation has performed at the New Orleans Jazz & Heritage Festival, as well as festivals in locales ranging from the Belleayre Music Festival in New York State, to festivals in Bahia, Brazil and Ticino, Switzerland. As saxophonist, singer & dancer in that tradition Donald also meticulously sews his own Mardi Gras costumes, unique works of art in their striking beauty and fierce in their pride of culture.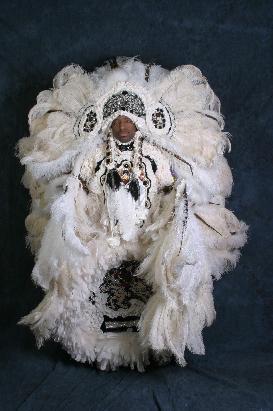 Big Chief Donald Harrison
From the finest live recording to the finest studio recording, here is another premium slice of the impossibly great Professor Longhair. It's odd to discover that the one studio date that would be my first choice to post has gone out of print. The same French guy (Philippe Rault) who was responsible for those first two Wild Magnolia records on Barclay arranged this session while in town for the second Mags album 'They Call Us Wild'. I'm not clear on the relationship that eventually leads to this being released on Dancing Cat (which was a sub of Windham Hill of all things!) or how George Winston (I call him the black Kenny G) ends up with production credits but what matters is that a special one time encounter of Fess and the great Gatemouth Brown and one of the best recorded of all Fess sessions ever is the final result.
Jimmy Carpenter and Friends at d.b.a.
One of my favorite things about New Orleans is its diamond-in-the-ruff persona. I find this description to holds true particularly when it comes to its musical landscape. On any given day, you'd be hard pressed not to find a number of shows that would absolutely blow you away. What's even better is that once you immerse yourself in the scene, you'll develop a knack for spotting a gem. One of my favorite talents on the local scene is saxophone player

Jimmy Carpenter

, a native of Greensboro, NC who for the last five has led the horn section in Walter "Wolfman" Washington's Roadmasters. He can also be seen backing bluesman Eric Lindell. Over the last year, Carpenter has also shown a flair for arranging, scoring the horn parts for both the Wolfman and Lindell's latest albums. Recently, he released his first solo album,

Toiling in Obsecurity

, a funky, R&B flavored disc that has become one of my favorite albums of this year. His busy touring schedule limits his solo gigs, but a few weeks ago – I believe if was a random Wednesday – I noticed that Jimmy was billed at

d.b.a.

, so I headed out to Frenchman St to see what the saxman had cooking.
Meet Mr New Orleans



Early days in his New Orleans parish and worshipping at the piano of Professor Longhair give way to recording sessions with The Meters and Lee Dorsey and penning songs such as Southern Nights and Working in the Coal Mine . The production gigs when he was the hippest and best gun for hire in town led to the magnificent solo albums. Toussaint really is a one-man repository of the finest American music from the last six decades.
"Music Rising" Documents the Struggle to Help the New Orleans Music Scene Dust Itself Off and Ascend from the Ashes
Lately, much of my reading, writing and listening has revolved around the "Big Easy," touching on various aspects of New Orleans. Along these lines, "
Music Rising
" is a phenomenal documentary about the effort to bring vital musicians back to New Orleans in the -- literal -- wake of Hurricane Katrina.
Yeah, You Right: Paul Sanchez
In our "Yeah, You Right!" interview series, we toss 20 rapid-fire questions at some of the New Orleans music scene's brightest stars. Some of their answers will surprise you, so sit back and enjoy the ride!

Paul Sanchez is one of the most intriguing musicians in New Orleans. Never one to be categorized or stay inside the lines (as you may note from some of his answers below), he has a musical career as varied as New Orleans itself. A native of the Crescent City's Irish Channel neighborhood, he began his career here but wound up in New York City in the 80s, paritcipating in the "anti-folk" movement. Moving back to his hometown in the 90s, he formed Cowboy Mouth, which enjoyed quite a bit of success, though he left the band after 16 years to go solo.

When Hurricane Katrina washed much of the city away, Paul began writing a lot of music around that catastrophic event. He also recently published a book, Pieces of Me, which deals with his sense of loss and rebuilding after the storm. Check Paul out on his solo gigs at places like Chickie Wah-Wah and d.b.a., as well as his gigs with his all-star band, The Rolling Road Show, at various festivals here and throughout the U.S.
Q: Crystal or Louisiana Hot Sauce?
A: Crystal

Q: Zapp's or Tater Tots?

A: Zapp's.
The Way of the Bayou
Five weeks after Hurricane Katrina, I was wandering around the ruins of New Orleans as a writer for The New Yorker when I heard some really dreadful news.

The city was just starting to show signs of life. A few restaurants had opened, albeit with very limited menus — burgers, red beans and rice — served on plastic plates. For those of us who'd stayed through the crisis, these small miracles were our first taste of cooked food in a month. More important, though, was the symbolism. Live music was returning;

Coco Robicheaux

sang at Molly's, and three members of the

Jazz Vipers

played at Angeli. For the first time since the disaster, it was possible to see a future for New Orleans



Experiencing New Orleans' music scene free and inexpensively
Free and inexpensive are definitely words that raise the excitement-the let's go-level when it comes to entertainment. That's what's being offered when the New Orleans rock-steady group, 007, makes three appearances in New Orleans this coming weekend, June 26 and June 27, 2009. The group lays down the rock-steady groove, a style of Jamaican music that was a successor to ska and precursor to reggae, at Tipitina's as a part of its Free Fridays series. On Saturday 007 heads to the Louisiana Music Factory for a 3:00 p.m. in-store show in support of its album You Only Drop Once. At 11 p.m. that night the band jumps on stage at d.b.a.; $5 cover charge.